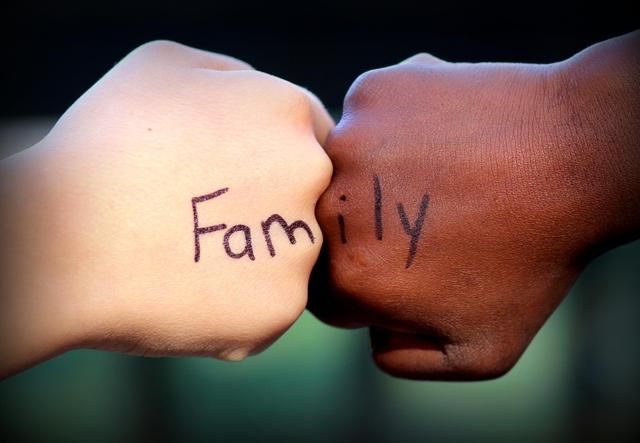 This picture is of Karson & Kolton's hands last fall.
_______
Ok now for the growing part......
My mind is racing a million miles a minute. We have been making some TOUGH heart wrenching decisions and while most of the time saying YES to God is the hard part, in this situation saying YES was the easy part. Many months ago, we fell in love with a sibling set of 3 in Ethiopia. We really, at the time, didn't know how or that we would ever adopt them. We just knew they needed prayers and someone to advocate for them which we were more than willing to do. Their paperwork wasn't ready and didn't seem to be headed in the direction of ever being ready. In addition to that, we didn't feel adoption from Ethiopia was a good decision at the time. We continued to sponsor and pray for and advocate for these children while going about our busy lives....having a baby, John taking a new job, pulling my teens out of school to homeschool, moving to another state...all that fun life changing stuff. We fought for these kids to have a foster home in Ethiopia, to be reunited with birth relatives, anything to get them into a family setting and out of the orphanage. All those things failed.
They felt so much like our children I would dream at night about my family and they were all in it, already my children in my dreams and still do. We knew if ever given the chance, we would definitely say YES to adopting them, even though that is nuts, right? Ten kids? Nuts, yes I know. I am the girl in high school didn't even know that she wanted to get married, much less have kids, because that would slow down my career. BAHAHAHAHA But there's no way to explain it. When you normally feel conflict about every decision you make - even the type of toothpaste to buy - but you feel an ABSOLUTE PEACE about such a decision, you know it can only be from one place, one person. God. So, yes we knew we would adopt them IF they were ever legally available for adoption....however many months-years that may take (and we were told it would most likely be years).
In that time, we fell for a little girl in China with HIV. HIV is something we have always felt very comfortable with and through research knew it was NO BIG DEAL to raise a child with it. So we said YES. We started the process to adopt her and was crazy about her as well. On Monday, June 4, we received preapproval to adopt her and on Thursday we found out the three in Ethiopia were ready to be adopted. Not only that, but if we didn't act immediately, we may not have the chance to adopt them.
We immediately set out to adopt both, but the timing was going to have us bringing both of them home at the same time which is not good for bonding and helping the children (both the ones here and the ones to be adopted) to transition. We knew nothing was too big for our God and we put it on Him to sort out. Both agencies agreed this wouldn't be best so we had to make a choice. While we were heartbroken and didn't want to have to make that decision, we felt the Lord knew what was best for the kids and us and felt confident He was in control of the decisions made by the agencies. I had such a peace about that.
We prayed and prayed and didn't really get clear answers on which, if any, we should go with. We really feel God was saying both were acceptable to Him and he would walk with us down either one. We struggled and struggled, but in the end, after factoring in SO many different things, we knew we were headed back to Ethiopia.
Ending our China adoption was one of the hardest things we have ever done. We felt like our hearts were being torn apart. She is with an AMAZING (I cannot, CANNOT say that enough) agency. I know she will get a wonderful family because they are dedicated to that for each and every one of the children they find homes for. It feels so wrong to have to say no to giving a child something that's easy for us - the love of a mommy and daddy. But it feels SO right to say YES to three children in Ethiopia that we have known and loved so much for a very long time. Finally being able to start the process to bring them into our family is like a breath of fresh air. It feels so good to be moving in a forward direction, even if the road is long ahead of us.
So we are pleased to announce we are hoping to adopt 3 amazing kiddos ages 7, 11, and 13. The reason I say hoping is because we cannot formally accept their referral until we have completed more paperwork. They really are amazing kids who love the Lord and are so positive despite their circumstances. We are already so crazy in love and have been for quite a while. So when I say we are watering the Cash Patch and watching it GROW (again), this time I mean we are watering it with Miracle Grow. HA HA
I am the first person to caution an adoption from Ethiopia. I don't think it's the best place to adopt from right now for someone without the ability to investigate the situation independently of the agency and in country staff. I have spoken with various embassy employees as well as a private adoption investigator in Ethiopia who recommended the agency we are adopting them through as well as their orphanage. We know the dark side of adoption and before we would proceed with this adoption, no matter how much we loved these kids, we first made ABSOLUTE sure they were legally adoptable, not just the story on the paperwork, but their actual story, and all other means to keep them with relatives in Ethiopia or a foster family were exhausted.
Before these kids I said we would never adopt from Ethiopia or a country that could allow child trafficking (not that all cases are unethical, but far too many are). Then there's God. When He is in control and He calls us to do something, who are we to think we know more about the situation than Him?
We ask for prayers that God will provide all that we need in order to get them home as soon as possible, or in God's timing of course. ;) They have waited far too long already for a family.